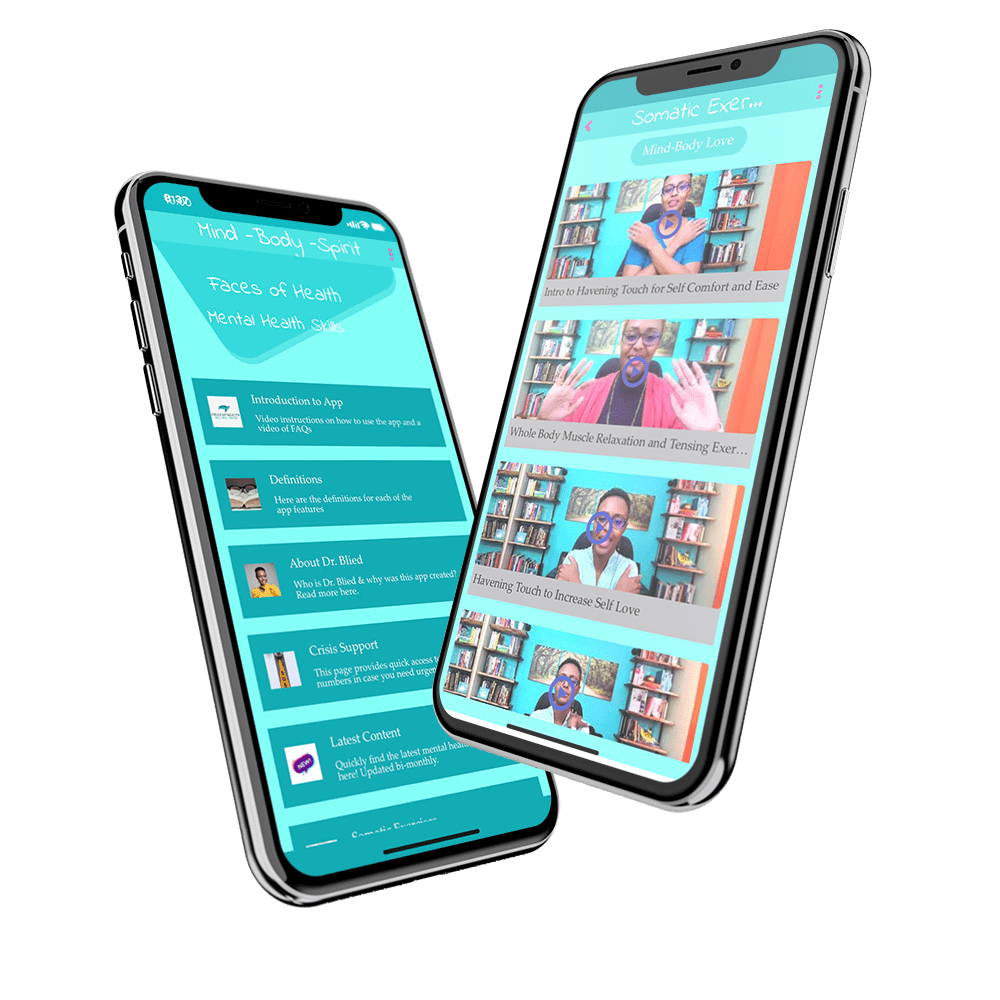 Faces of Health
App & Online Course
Faces of Health tech forges fresh paths to make mental health skills more accessible. And, we are increasing the visibility of professionals of color who teach mental health skills.
Faces of Health is changing the FACE of mental healthcare through accessibility and visibility. At the heart of this company is a passion for individual and collective wellness. Founded by a Black woman clinical psychologist, we are a mental health tech company that provides on-demand, brief videos teaching stress management skills. Each of the skills taught are based on neuroscience, so individuals learn about their brain and biology and WHY the skills work, to reinforce their learning and practice.
We believe that there is no one-size-fits-all solution for mental healthcare; therefore, our unique digital products introduce a robust selection of easy-to-learn strategies to improve the longevity and quality of individuals' lives, while reducing their experiences of suffering.

Created By
Dr. Monica Blied, PhD, MACL, BSP
Hi! I'm Dr. Monica Blied, founder of the Faces of Health app and online mental health courses. I combine my expertise as a clinical psychologist and neuroscience practitioner with my everyday experiences living with chronic illnesses for the past 11 years, to design tools that help people learn to manage stress and live fuller lives. At Faces of Health, we believe that stress management is a key pathway to achieve optimal physical and mental health.  Therefore, my team and I put our expertise & experiences to work and engaged our communities to solve the problem of unmitigated stress for ourselves and for others.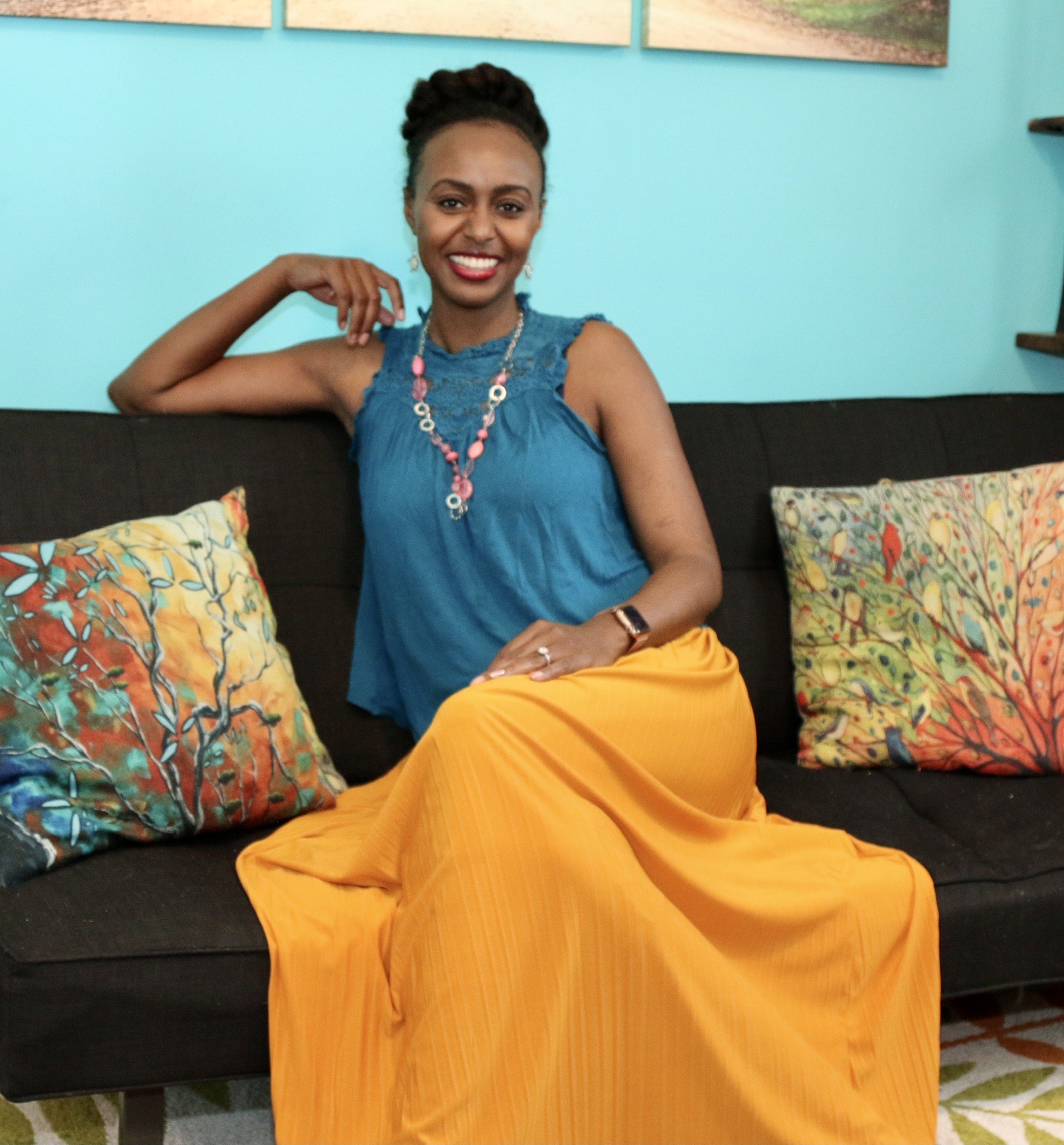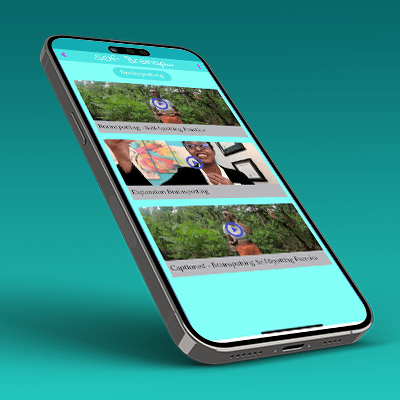 Self-Brainspotting
Learn how to access the four-quadrillion connections in your brain to improve creativity, promote healing, and relieve stress. Brainspotting is a skill that uses where you look to identify spots on the brain where you are "stuck" to help you process issues and get un-stuck.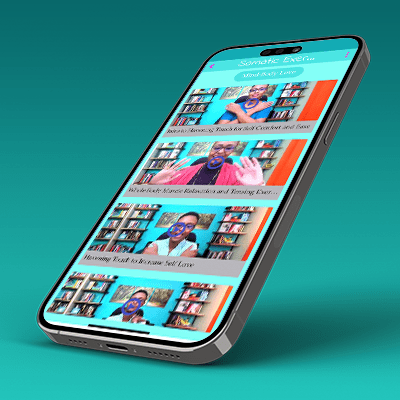 Somatic Exercises
Show yourself some love by using these physical movements to connect your mind and body. Somatic exercises help to relax the nervous system and activate the release of oxytocin and other mood-boosting neurochemicals.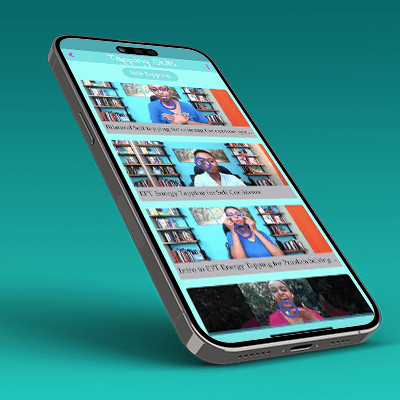 Tapping Skills
From EMDR and Emotional Freedom Technique (EFT), these tapping skills connect the energy centers in our brains with our bodies to help activate our body's relaxation system (the parasympathetic nervous system) and our brain's problem solving abilities.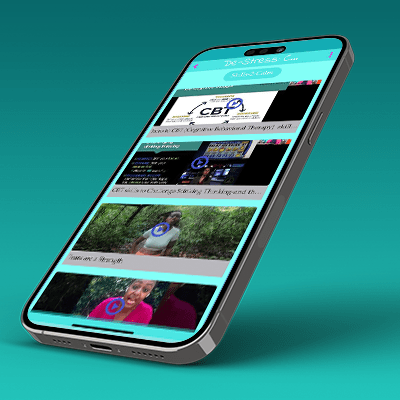 De-stress With CBT (Cognitive Behavioral Therapy) Skills
Learn the tools and techniques of CBT to help control worry and spiraling thoughts. Cognitive Behavioral Therapy has been shown to be an effective tool for combating stress, depression, anxiety, and other mental illness.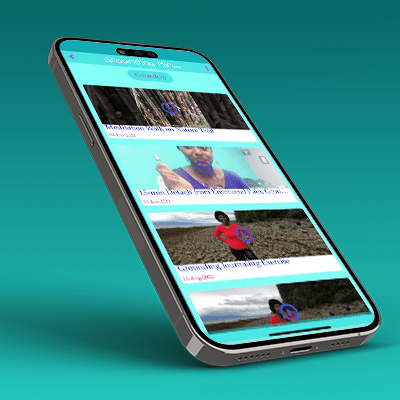 Grounding Mindfulness
These are mindfulness activities with your eyes open. Grounding centers you in the here-and-now and is shown to be helpful for people struggling with PTSD symptoms and hard-to-handle emotions.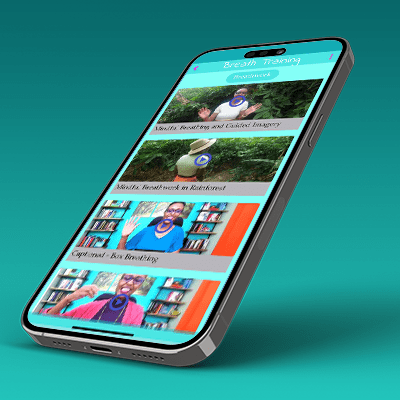 Breath Training
Experience the power of the mind-body-health connection through breathing skills. Learning how to breathe in specific ways can help you relax during panic, lower stress levels, cortisol in your body (the stress hormone), and increase activation of your vagus nerve and parasympathetic nervous system (the relaxation systems in your body), decreasing inflammation levels. Try several methods out of the 12+ that are offered in these videos to discover what works best for you.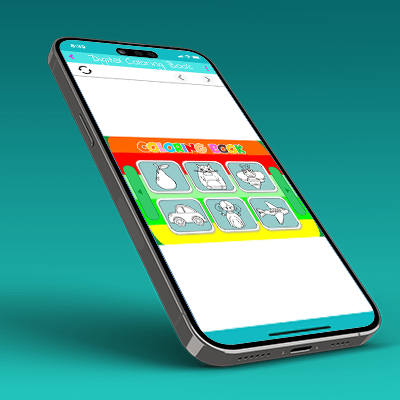 Coloring Book
Use this digital coloring book to help unwind and distract from painful emotions. Distraction activities are helpful to help calm down the body and to prepare you to use deep breathing and other relaxation skills.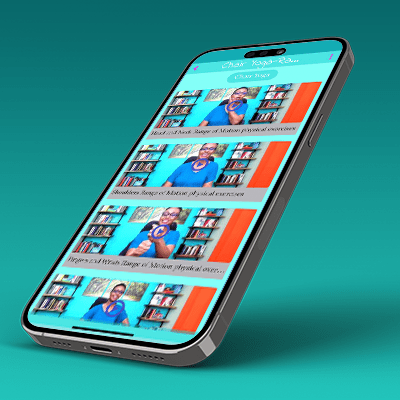 Chair Yoga
Get moving and exercising without standing up! Chair yoga and range of motion exercises can help increase our flexibility and soften our fascia, which is important for whole body health.
"The Faces of Health App by Dr. Monica Blied is a helpful app for providing resources that help a person deal with overall mental well being on a daily basis. The exercises and information available on this app will empower an individual to become less anxious or depressed so that one can live their best life amidst life challenges. I appreciate that she gives her focus though to the chronic Illness community and provides tools for people to rewire their minds."
"Dr. Blied is such a gem! Her app is sooo amazing! Her de-stressing strategies have really helped me through so many situations. I especially appreciated her 'Redirect, Reframe and Recognize/Accept' method. There has been a lot heavy on my mind this week and this has really helped me to change my mindset and relax. I am so happy her advice is now available in app form ?"
"I love that Dr Blied / Faces of Health approaches healing and wellness from so many different proven methods. For me, CBT has pulled me out of slumps, and there are still many other methods I'm learning about on this app. You also get a sense of her warmth and understanding when you listen to her. A definite Safe Place for recovery."
"Dr. Blied has created a space for self-care, Self-treatment, Self-help, and so much more. The opportunity for education and community all lie behind the icons in this app! It is an answer to prayer for those who suffer from chronic pain (or anxiety, depression etc) and an inspiration for other mental health providers to invite others away from the noise of social media and make the most of technology to help us all recover, heal, grow and thrive! I highly recommend you join me in my use and prescribed use for others."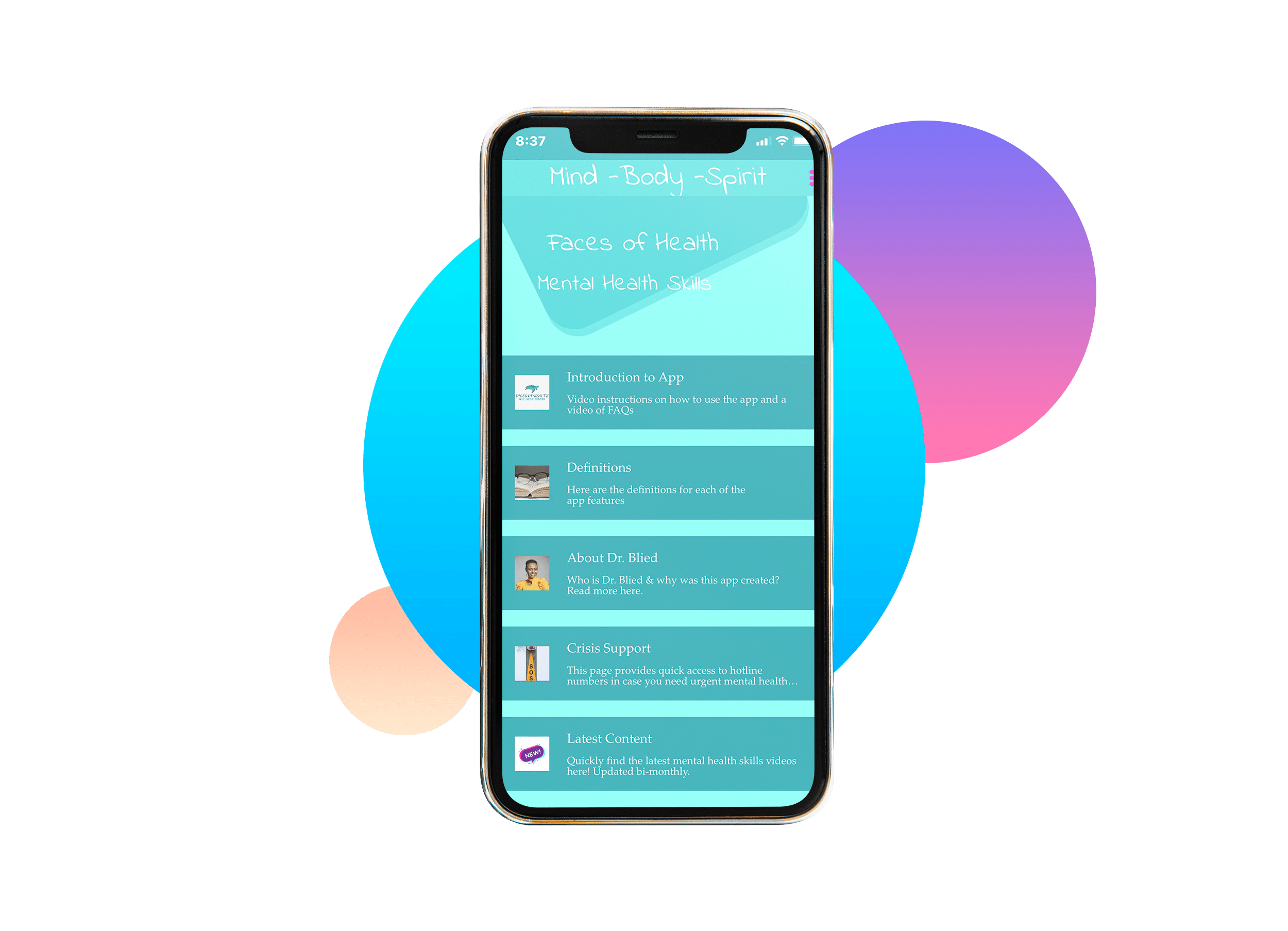 Dr. Monica Blied
PhD, MACL, BSP
Creator & CEO
Masa Shah
B.A. Psychology
Executive Assistant
Dr. Gimel Rogers
PsyD, ABPP
Content Contributor
Liann Llanos
MFT student
Executive Assistant

How We Are Different
Faces of Health aims to change the face of mental health care by providing every individual with always-available access to tools that help them to manage and decrease their stress and pain. The company is founded by a licensed clinical psychologist who has lived with chronic illnesses, with pain and symptoms that are exacerbated by stress. Dr. Blied used her years of neuropsychology and health psychology training to learn in-depth about how our brains and body work together to produce stress responses and how to reduce it. She distilled her wisdom from personal and professional practice, into short, practical exercises that individuals can learn and use everyday to live well.
What makes Faces of Health tech products unique from competitor applications is that we believe there is no one-size-fits-all solution for stress management. We offer training in meditation and breathing exercises, as our competitors do, but also offer 2-4 minute videos trainings that cover a robust variety of easy-to-learn skills including: tapping, self-brainspotting, grounding skills, somatic exercises, and CBT (cognitive behavioral therapy) skills. These are readily accessible for individuals everyday; these are skills they might otherwise learn from a highly skilled therapist (for $250 per session).
Added to this, Faces of Health elevates and makes visible the expertise of women of color professionals. This app features content from experts in various speciality areas, including: trauma recovery skills (the neuroscience of trauma and healing), holistic substance abuse recovery, and sexual comfort training from a sex-pert. At Faces of Health, we believe that every individual should have access to tools that improve their mental health at their fingertips, without barriers, and from people who represent the global majority.
Masterclass Registration
The Neuroscience of Stress Management and Mindfulness: How to Heal
"This masterclass is is beyond informative and reassuring to watch. It provides so much information from how gut health impacts our brain to ways we can calm our nervous system (like using the progressive muscle relaxation techniques). Dr. Blied provides context on each subject she brings up, and for each problem we may face she explores a solution. This masterclass encourages watchers to realize what their body is telling them; by taking this course, one is able to watch for signals in real life scenarios. I am beyond happy that I went through this masterclass….I have learned more about my mind, health, gut health and ways to prioritize my mental health."
– Joanna Z. – Entrepreneur and Founder of Gemini Beauty Products
"The online course is well worth the investment! Dr. Blied expertly breaks down complex concepts in a way that anyone can understand. She gives you strategies that are easy to implement and that are evidence-based. Highly recommend!"
– Dr. Kerry-Ann Williams, MD
In this 5 part class you will learn:
What is mindfulness? And practice how to activate your body's parasympathetic nervous system for relaxation
How are the mind and body connected to our health? And practice how to use progressive muscle relaxation to stimulate our vagus nerve
What are the health effects of stress? And practice mantras for deeper focus and self-calming skills
How do we get rid of stinking thinking? And practice CBT skills along with mental, physical, and soothing grounding exercises
What effective alternatives are available to help manage pain? And practice mindful eating for improved willpower and wellness
As a BONUS, you will also receive:
Video training on the Gut-Brain Health connection and it's role in mood and physical health
Special training on Alternative Breathing tension headaches
Breath Retraining to disrupt panic symptoms and improve vagal tone
Handouts and graphics are included and available for download!
You will receive a Certificate of Completion upon successfully finishing all of the masterclass components